US-based biomedical company launches first medicinal probiotic targeting brain health
August 3, 2022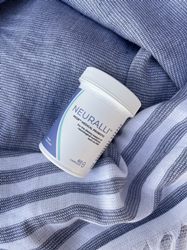 "Neuralli™ works by empowering the gut microbiome to balance gut and brain health via the gut-brain axis."

SAN FRANCISCO (PRWEB)
August 03, 2022
Bened Life is launching the first gut-brain medicinal probiotic, Neuralli™, on Wednesday, August 3, 2022. Neuralli is manufactured in the United States and uses the patented probiotic strain L. plantarum PS128. Neuralli is designed to promote mental health and support neurological disorders including but not limited to Parkinson's Disease (PD) and Autism Spectrum Disorder (ASD).
The unique probiotic gut-brain axis strain L. plantarum PS128 is supported by 11 clinical studies and addresses the specific nutritional needs of people with neurological disorders. Neuralli has been shown to help balance serotonin, dopamine, cortisol, and other molecules that affect mood, mind, and exercise, while also helping to regulate gastrointestinal health.
A medicinal probiotic, a type of medicinal food, is defined as "a food formulated for consumption or enteral administration under the supervision of a physician and intended for the specific dietary treatment of a disease or condition for which particular nutritional requirements exist based on accepted scientific principles are established by medical evaluation." PS128 has been shown to affect the production and metabolism of serotonin and dopamine by gut cells — the levels of either or both of these neurotransmitters are associated with neurodevelopmental disorders such as ASD dysregulated. The classification of Neuralli as a medicinal probiotic is based on the results of three clinical trials of PS128 in autistic children, which found neurological health benefits. No naturally occurring food has been shown to have showed the same results.
Many people with neurological disorders experience chronic gastrointestinal disorders, including constipation and spasms, trouble sleeping, increased anxiety, and depression. Neuralli empowers the gut microbiome to balance gut and brain health via the gut-brain axis by:

Increases mucin production by the gut lining, counteracts the pathogenic effects of other strains and promotes healthy gut function

Balancing the levels of dopamine and serotonin in the brain by affecting their production in the gut cells and their metabolism throughout the body
"Bened Life is dedicated to helping people with mental and neurological conditions, whether it be Parkinson's, Autism Spectrum Disorder, Anxiety, Depression or Insomnia, to reach their full potential. With 60 billion Colony Forming Units (CFU) per two-capsule serving, Neuralli is poised to lead the gut-brain medicinal probiotic category. It is an honor to lead Bened Life as medical probiotics continue to become mainstream," said Franklin Cheng, CEO of Bened Life. "Neuralli is the culmination of our commitment to psychobiotic research and development and represents the first product launch since the merger from Bened Biomedical and Oryx Biomedical. I look forward to the future of Bened Life."
Neuralli works best with consistent use, and each capsule is acid-proof, vegan, and free of common allergens like gluten, nuts, and dairy. The ingredients are L. plantarum PS128, inulin, microcrystalline cellulose, silicon dioxide, magnesium stearate and vegetable capsules (hydroxypropyl methyl cellulose and water).
Price tiers are:
1 bottle/1 month supply (60 capsules): $165

3 Bottles/3 Month Supply (180 Capsules), Subscription: $346.50

3 Bottles/3 Month Supply (180 Capsules), One Time Purchase: $495
Visit BenedLife.com for more information.
Share the article on social media or via email: