New partnership connects mothers of preterm babies to breast pumps, nutritional resources | MUSC
August 3, 2022
Goose Creek native and new mom Shaneisha McQueen couldn't wait to bring newborn daughter Trinity Simmons home in early July. Trinity was born earlier than expected and was McQueen's second child. She was a premature baby in the neonatal intensive care unit (NICU) at MUSC Shawn Jenkins Children's Hospital (SJCH) and the Pearl Tourville Women's Pavilion (PTWP). Before Trinity was released, McQueen learned that while she was still in the hospital, she could take care of something that would give both mother and child a good start in a successful, healthy life.
It's stressful enough for new mothers of preterm babies who are so busy caring for their newborns during their hospital stay. Still, a nationwide mother-child support program that focuses on a mother's nutrition and breastfeeding efforts has become an easy and convenient solution for new Lowcountry mothers, their families, and a caring team of neonatal physicians and experts at MUSC Children's Health.
Beginning June 30, South Carolina mothers whose babies are admitted to the SJCH NICU or Cardiovascular Intensive Care Unit (CVICU) may be eligible for personalized nutritional support to care for their newborns and children up to age 5 through the Department of Health and Human Services of South Carolina and the Women, Infant and Child (WIC) Nutrition Program of Environmental Control (SC DHEC). A portion of WIC's services is dedicated to supporting new mothers by providing them with a personal, hospital-grade electric breast pump to assist with breastfeeding immediately after discharge.
As the state's regional comprehensive perinatal center, the MUSC SJCH&PTWP delivers more than 3,000 newborns, with an additional 12,000 babies being born in the referral area. Among those deliveries, more than 1,000 babies will be admitted to the MUSC SJCH ICUs, with 40% of newborn transports being accommodated at the NICU.
This collaboration was the brainchild of neonatal perinatal physician Neal Boone, MD, who was involved in a large group quality improvement project that assessed mother-infant success in multiple domains. The group conducted feeding assessments and specifically tracked maternal breast milk consumption – particularly for preterm infants in both ICUs. Previously, breastfeeding rates for mothers and their babies remained good through discharge and up to six months of age, as recommended by the American Academy of Pediatrics and the Centers for Disease Control and Prevention, but recorded a decline in fall 2021. And given the With the current shortage of infant formula, mothers are choosing to breastfeed their babies more often. Research continues to advance the value of breastfeeding and improved health outcomes, which include reductions in hospitalizations, costs and other expenses associated with donated breast milk.
Boone, along with neonatologist Katie Chetta, MD, researched lactation consultants and other specialists to find ways to improve these rates for breastfeeding mothers. They created a multi-step plan to help mothers improve their breastfeeding experiences early in their hospital stay. Efforts have focused on re-education, distribution of new pamphlets and materials, and one-to-one meetings with the hospital's lactation counseling team before and after birth. One problem they discovered was that mothers were being discharged with standard manual breast pumps and not the high quality Medela Symphony electric pumps, which they used while still inpatient with their newborns. The team agreed that continued use of a hospital-grade electric breast pump after discharge improves both the mother and child's chances of long-term breastfeeding success.
According to Molly Gros, lactation consultant at MUSC Women's Care Lactation Center, the first week is critical for a mother to be successful in breastfeeding and pumping her infant. It is crucial for a mother's body to continue producing milk as her baby grows. Research has touted the value of human breast milk for newborns, and especially preterm babies. Premature babies are usually fed breast milk or donor milk during their hospital stay. Studies have confirmed the many benefits associated with consuming human milk versus formula for preterm infants, including: shorter hospital stays; lower lung infection rates in conditions such as bronchopulmonary dysplasia, a breathing disorder affecting an infant's lungs; reduced risk of necrotizing enterocolitis, an intestinal disease affecting very low birth weight infants; Also, breast milk helps babies' brains grow, resulting in a higher IQ.
"If we don't make that brain-breast-body connection in the first two weeks, we risk inadequate milk production forever. It will not get better. That's why this program is so important, so that we can establish it earlier," said Gros.
"We were back to basics and like, 'How do we get mums faster with electric breast pumps?' We then reached out to our regional WIC staff and were surprised to learn that they had the solution," Boone said of her first meetings of 2021 and again this past January and May with Lowcountry's WIC administrators.
"They were already using the WIC Service on Wheels (SoW) van throughout the Lowcountry, so it was a no-brainer to park it at SJCH once a week to do initial WIC appointments and serve as a registrar for moms and toddlers on ours admitted to intensive care units. It's been a huge success so far," continued Boone.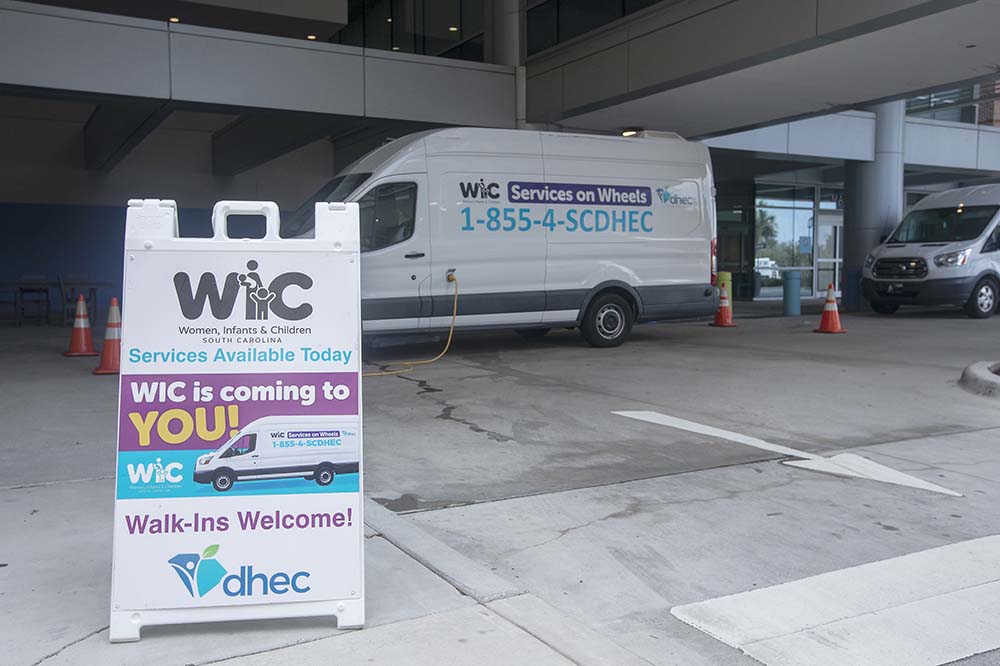 Between June 23rd and June 30th, the teams entered five moms with a 100 percent show rate. Another mother, who was discharged on the morning of June 30, was seen the same day thanks to MUSC lactation consultants who called WIC wagon staff. "This was a significant improvement as some mothers wait up to two to three weeks after delivery to be seen in their local areas. It's definitely a win-win for moms, WIC and MUSC Children's Health," Boone said.
The MUSC team worked with WIC Program Manager Kristin Pillion, WIC Breastfeeding Coordinator Courtney Smith and others to coordinate the logistics of transporting the WIC SoW van to SJCH. Mothers register with the lactation consultants and receive information and reminders about their visits via e-mail and personal advice. Both teams hope to track patient/client outcomes and data on breastfeeding and breast milk rates, which will help them improve the quality of services, education and interventions for better mother-child outcomes.
The WIC program, a largely underutilized nationwide program, faced many challenges during the early stages of the COVID-19 pandemic. As offices were understaffed and the program worked to accommodate clients, cautious mothers navigated transportation issues, work and family challenges that prevented them from visiting their local WIC regional offices. To counteract this, the Regional Office expanded its WIC SoW program with a special mobile van, outfitted as an "office on wheels" and staffed with WIC coordinators, a nutritionist and support staff to travel across the region to public gatherings like Head Start centers, libraries, farmers markets and back-to-school events in their districts.
Nancy Kate Pippin is the WIC Van Coordinator for the Lowcountry WIC SoW program. She, Smith, a nutritionist, and van administrator Alleyah Wilder coordinate the van's roadmap at MUSC and other Lowcountry locations where it operates. The Lowcountry WIC SoW team is based at the Colleton County Health Department in Walterboro, but covers the entire Lowcountry region, including Charleston.
"Our main goal has been to remove our customers' transportation barriers and meet attendees where they are – that's what we do here at MUSC," said Pippin.
Wilder drives the van and helps mothers and children through the registration process, collecting customer information, arranging for the mother to meet with a WIC dietitian, and reviewing benefits before issuing an SC WIC card. Smith also speaks to moms about breastfeeding support, answers questions, and shares electric breast pumps.
"You quickly notice that mothers are stressed with their babies in the neonatal intensive care unit and have a hard time," says Wilder. "You can see that in the mothers. As a mother who had a child in the NICU, I know how that felt. It's nice to put a smile on a mother's face by providing good customer service and connecting them to the things they need, like a breast pump and other interventions to help their child."