Meet Mark C. Honeywell, the visionary behind Wabash's Honeywell Center
August 3, 2022
What do you think of when you hear the name "Honeywell"? Coming from Northeast Indiana, you might think of the Honeywell Center in Wabash.
But maybe you also think of the name on the thermostat, bedside fan or portable heater in your home. The Honeywell name found on thermostats and various other heating and cooling products worldwide is the same Honeywell of Wabash, IN.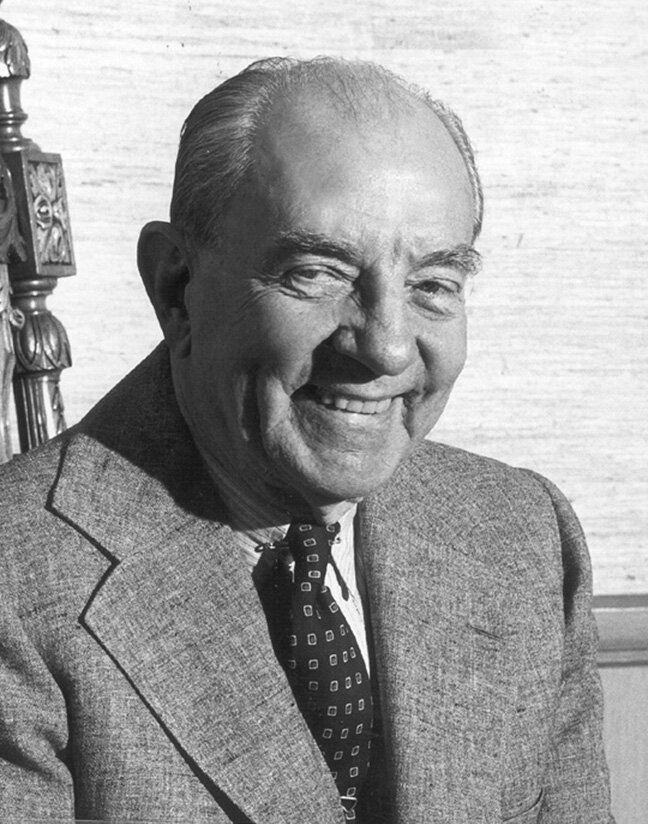 Mark C Honeywell
Mark C. Honeywell is the man behind the world famous Honeywell name. He was considered a visionary, innovative businessman and advocate for community investment.
He died almost 60 years ago, but local historian Pete Jones is well acquainted with Honeywell's story. Jones is a lifelong resident of Wabash County with family ties to Wabash six generations ago. He has shared his knowledge of Honeywell's life and influence on Wabash with Input Fort Wayne.
Mark C. Honeywell was born in Wabash in 1874. It's no wonder he became interested in business as his family owned and operated several businesses. His parents owned orange groves in Florida and ran a mill and cider mill in Wabash. When Honeywell was young, two consecutive freezes hit the orange groves, putting the Honeywells out of the orange business.
"I think, honestly, that's one of the luckiest things that's ever happened because Honeywell might have spent his career in Florida if those orange groves had survived," says Jones.
After graduating from Eastman Business College in Poughkeepsie, NY in 1891, Honeywell returned to Wabash. He had a number of interests including bicycles. Jones says he sold bicycles and competed in local races in the 1890s. After marrying his first wife, Olive, in 1899, Honeywell's wheels really turned in terms of the type of company it wanted to invest in.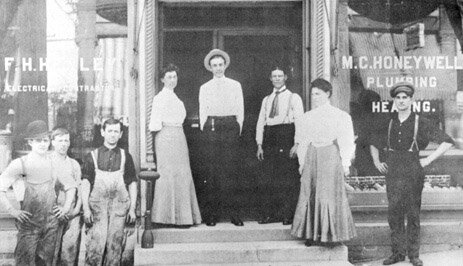 Mark C. Honeywell's storefront.
By 1902 he had established himself in the heating and cooling industry. And by 1905 Honeywell had invented a hot water heating system which he installed in his own home on Main Street in Wabash.
He opened a hot water heating factory in Wabash, Honeywell Heating and Specialties, which employed about 250 people. Honeywell was also known for improvements to the thermostat, leading to a 1927 merger with a Minneapolis company that primarily manufactured thermostats. The newly merged company was named the Minneapolis-Honeywell Company.
Honeywell was president of this company until 1935. In the 1950s, the company simplified its name to Honeywell Inc.
He delegated most of the tasks required to run his businesses and gave him time to invest in two of his hobbies: photography and filmmaking. He had film studios in Florida and Wabash where he made short films. The studio in Wabash, known as Honeywell Studio, eventually became the Wabash Country Club, which operated until about 15 years ago.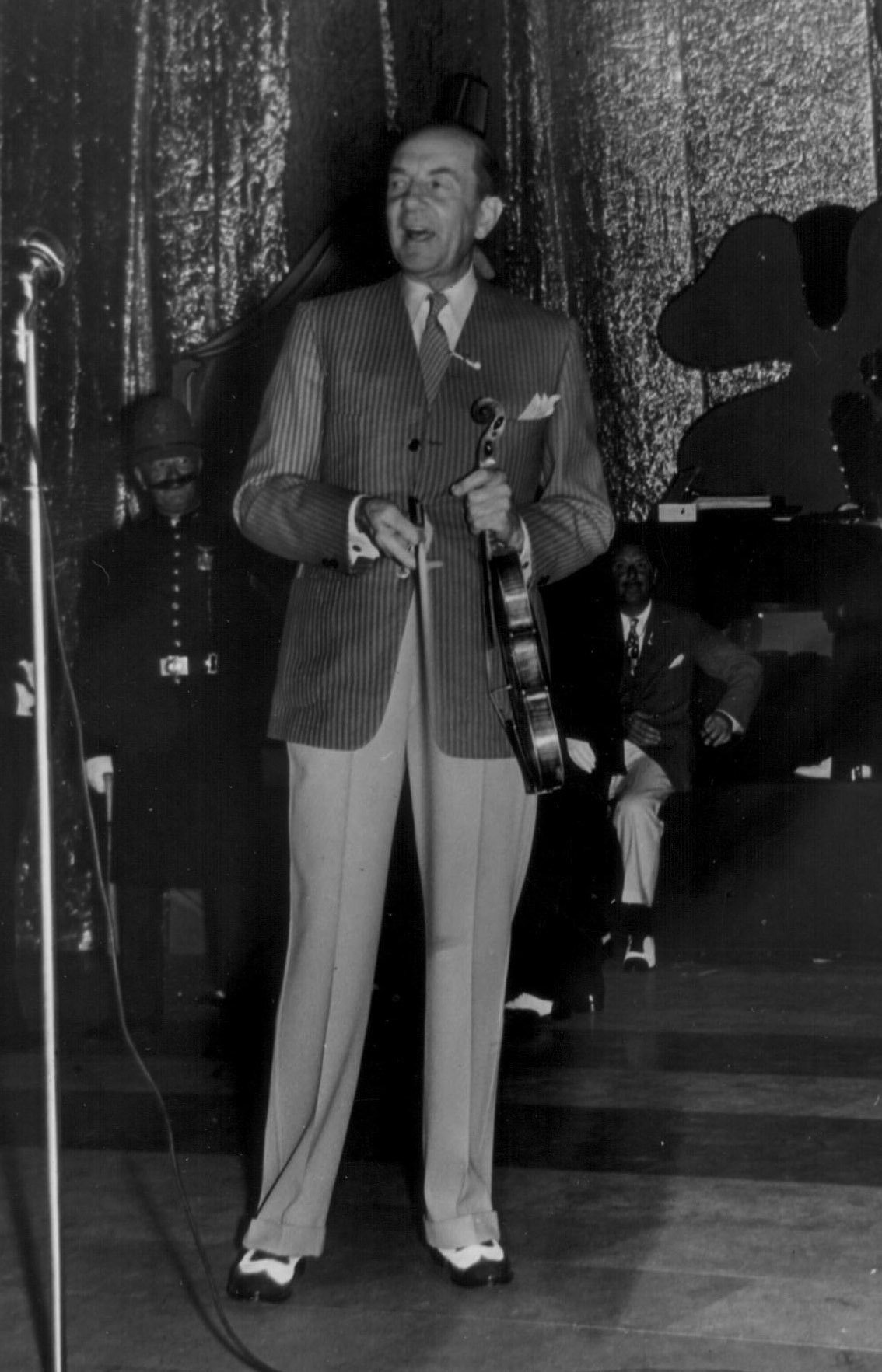 Mark C. Honeywell played the violin.In addition to his role in creating one of the largest heating and cooling brands in the world, Mark C. Honeywell is best known for bringing the Honeywell Center to Wabash.
In the 1930's there was a building in Wabash known as the 'Community Service'. This facility provided recreational opportunities for the people of Wabash. However, in the late 1930s, this building was condemned by the fire department. Although money was tight due to the Depression, the city decided to purchase an old bakery building in town and convert it into a community center. Honeywell was in Florida at the time, but caught wind of what was happening in his hometown. He sent a telegram to then-Mayor James Smallwood that said something like, "Don't buy the bakery. I have an idea.'
Honeywell wanted to build a community center in memory of his wife Olive, who died in 1939. He shared his vision for the facility and eventually that vision turned into a construction project. Groundbreaking took place on June 24, 1940. As a very young boy, Jones attended the groundbreaking ceremony with his grandfather.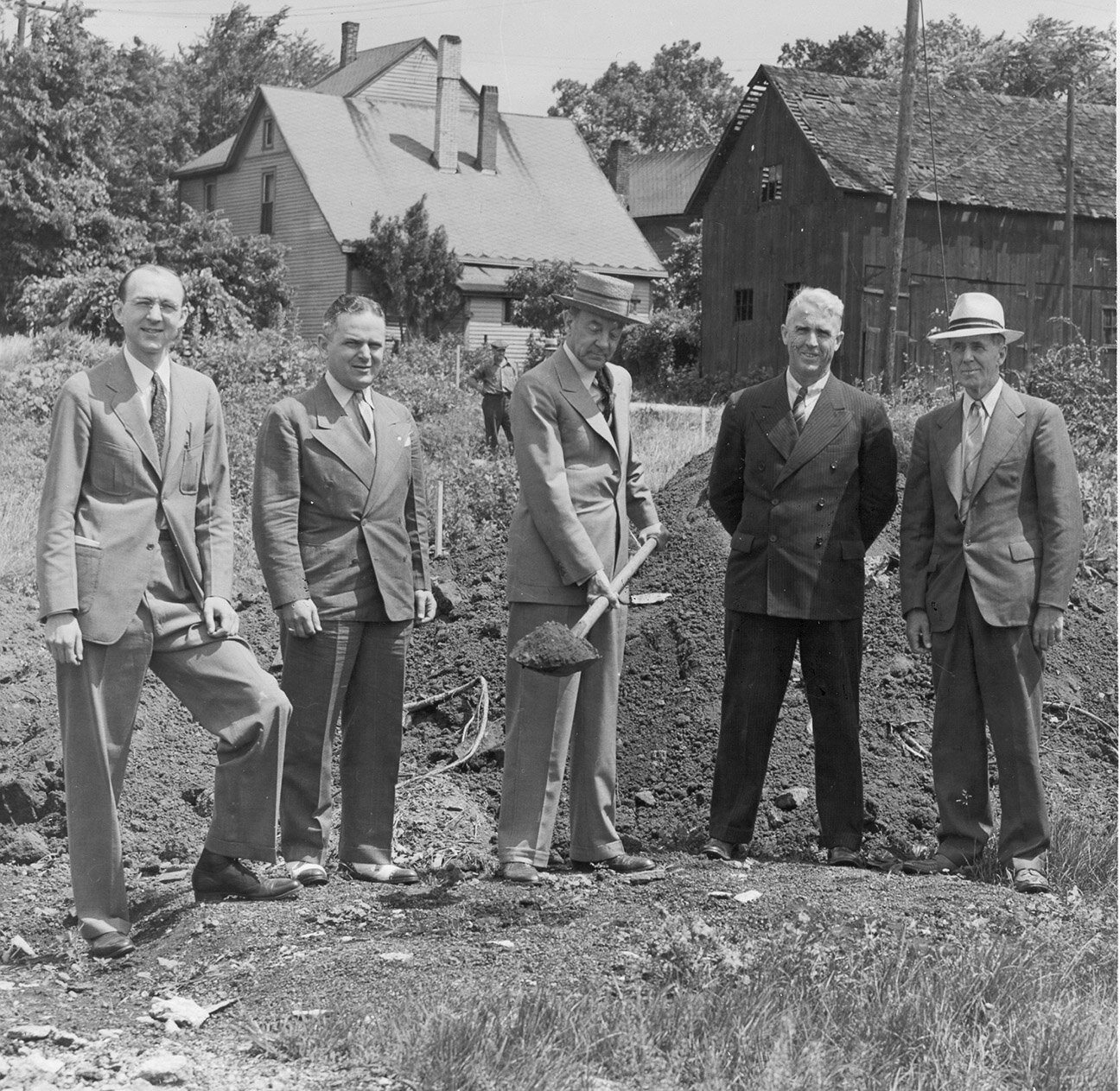 Groundbreaking for the Honeywell Center in 1940."I couldn't understand why these men in business suits were digging in the ground," says Jones. "When my grandfather worked in his garden, he didn't dress like that."
The Honeywell Center took 12 years to build until it was fully completed in 1952. The construction work was interrupted by the Second World War, so the facility was opened in phases.
"Mark C. Honeywell was a perfectionist and didn't want to rush completion," says Jones.
The gym was one of the first areas to open; Jones says he remembers attending the first basketball game in 1947.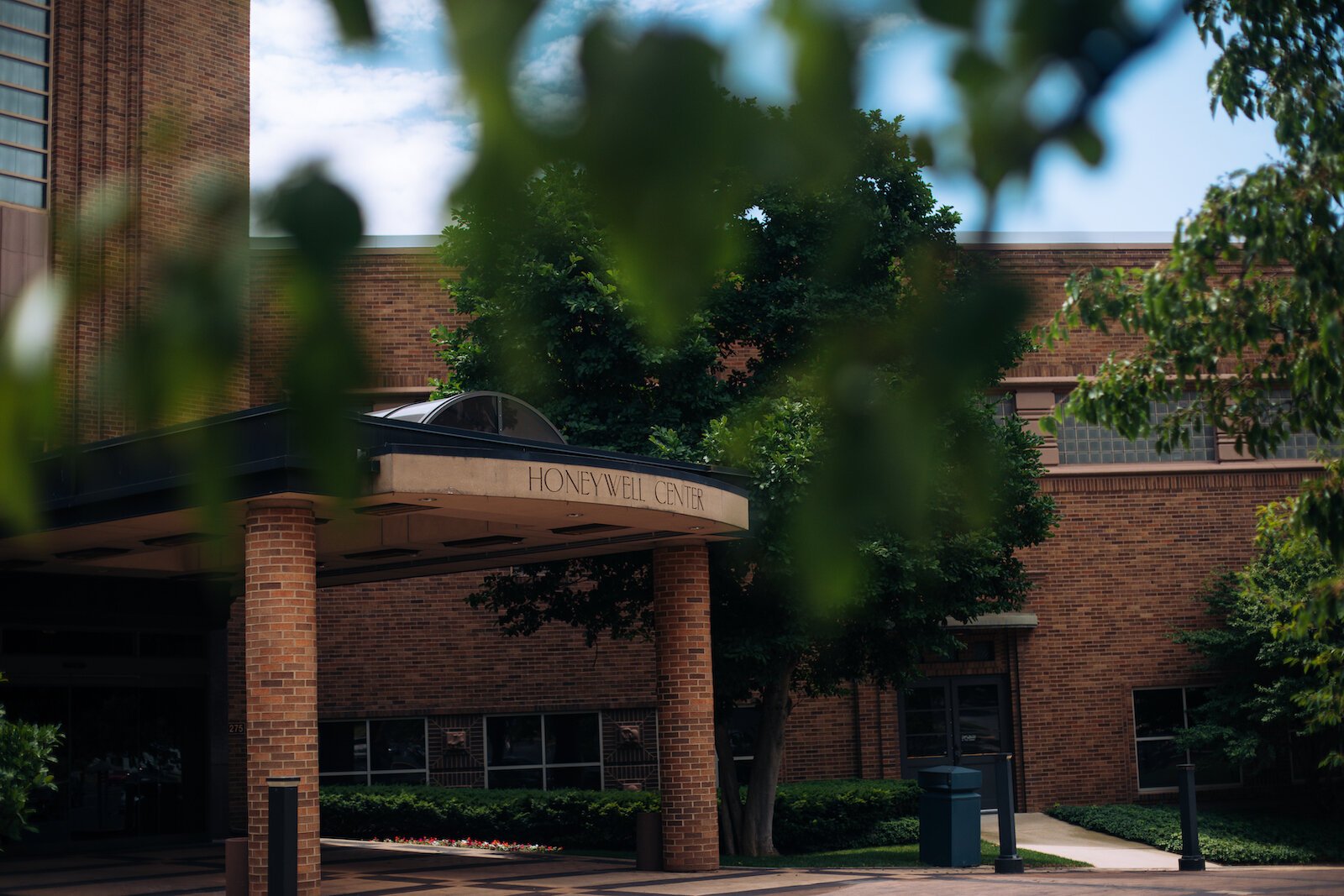 The Honeywell Center is located at 275 W Market St. in Wabash.In 1942, Honeywell married his second wife, Eugenia. She was a pianist, and Jones says he wonders if she got Honeywell to include arts facilities in the Honeywell Center. While Eugenia was undeniably influential and interested in photography, filmmaking, and the violin, Honeywell was also passionate about art. He understood the importance of the arts and was committed to bringing these opportunities to the community in addition to the Honeywell Center's social and recreational offerings.
When the center opened, Honeywell encouraged everyone to use it, including its employees at the Wabash Heating and Cooling Facility. Jones says he suspects Mark's philosophy was "healthy employees are happy employees."
The Honeywell Foundation was established in 1941 to oversee the construction and management of the center. Today, the foundation (DBA Honeywell Arts & Entertainment) has grown to encompass a range of offerings including live theater shows, art galleries and exhibitions, as well as an extensive arts education program, music classes and much more.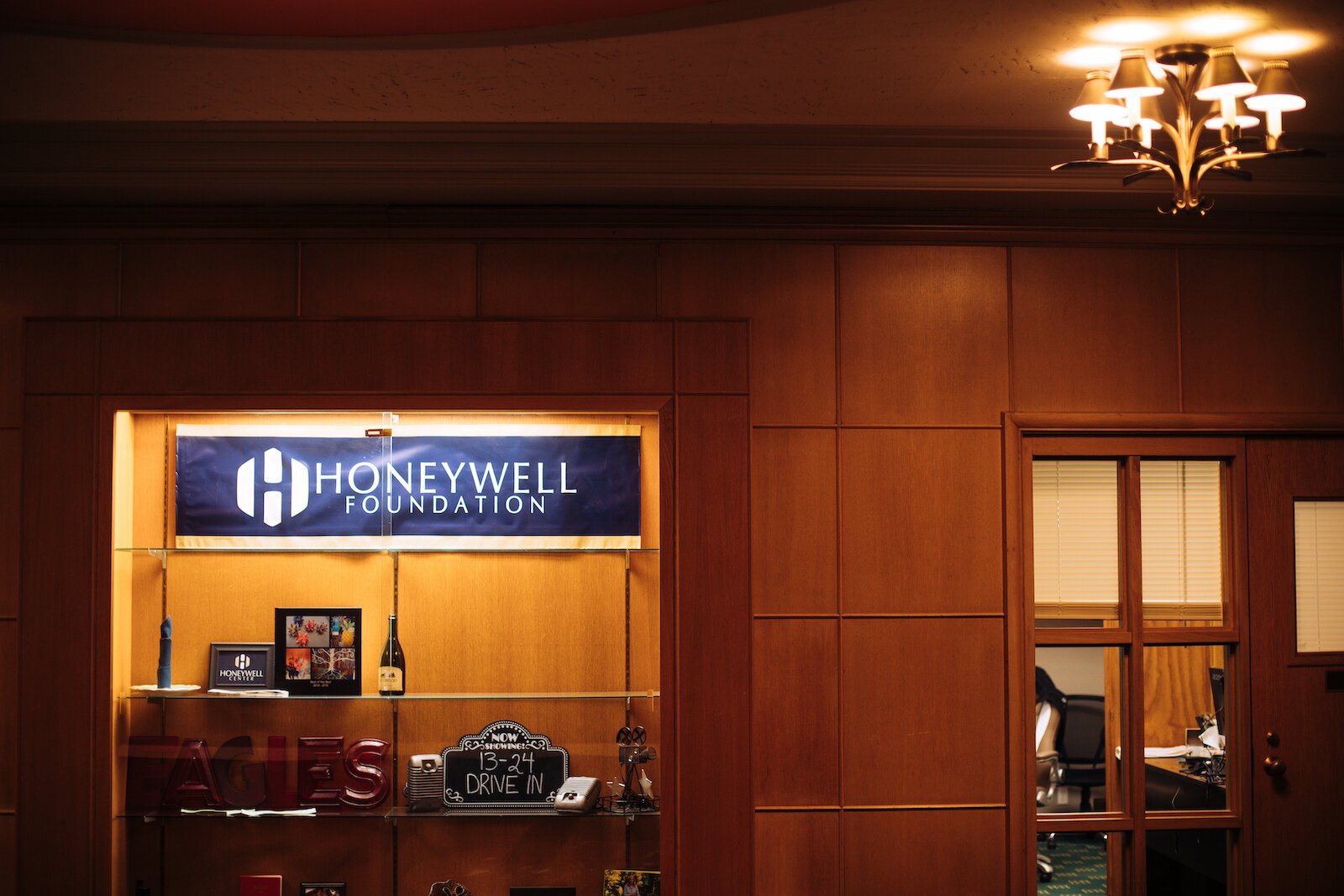 Gifts support Honeywell Center Ford Theater and Eagles Theater, programs at Honeywell House, Dr. James Ford Historic Home, Charley Creek Gardens and Movies at Eagles Theater and 13-24 Drive-In.Honeywell owns and operates six venues for these offerings: Honeywell Center, Honeywell House, Eagles Theatre, Charley Creek Gardens, Dr. Ford Historic Home and the 13-24 Drive-In. Honeywell Arts & Entertainment remains committed to each venue, following Mr. Honeywell's vision, which is written on the Honeywell Center's dedication, which reads, "May it ever be of use to them."
If you visit the Honeywell Center today, you can dine at Eugenia's Restaurant. You'll also find a portrait of Olive Honeywell, Mark's first wife, in one of the building's meeting rooms.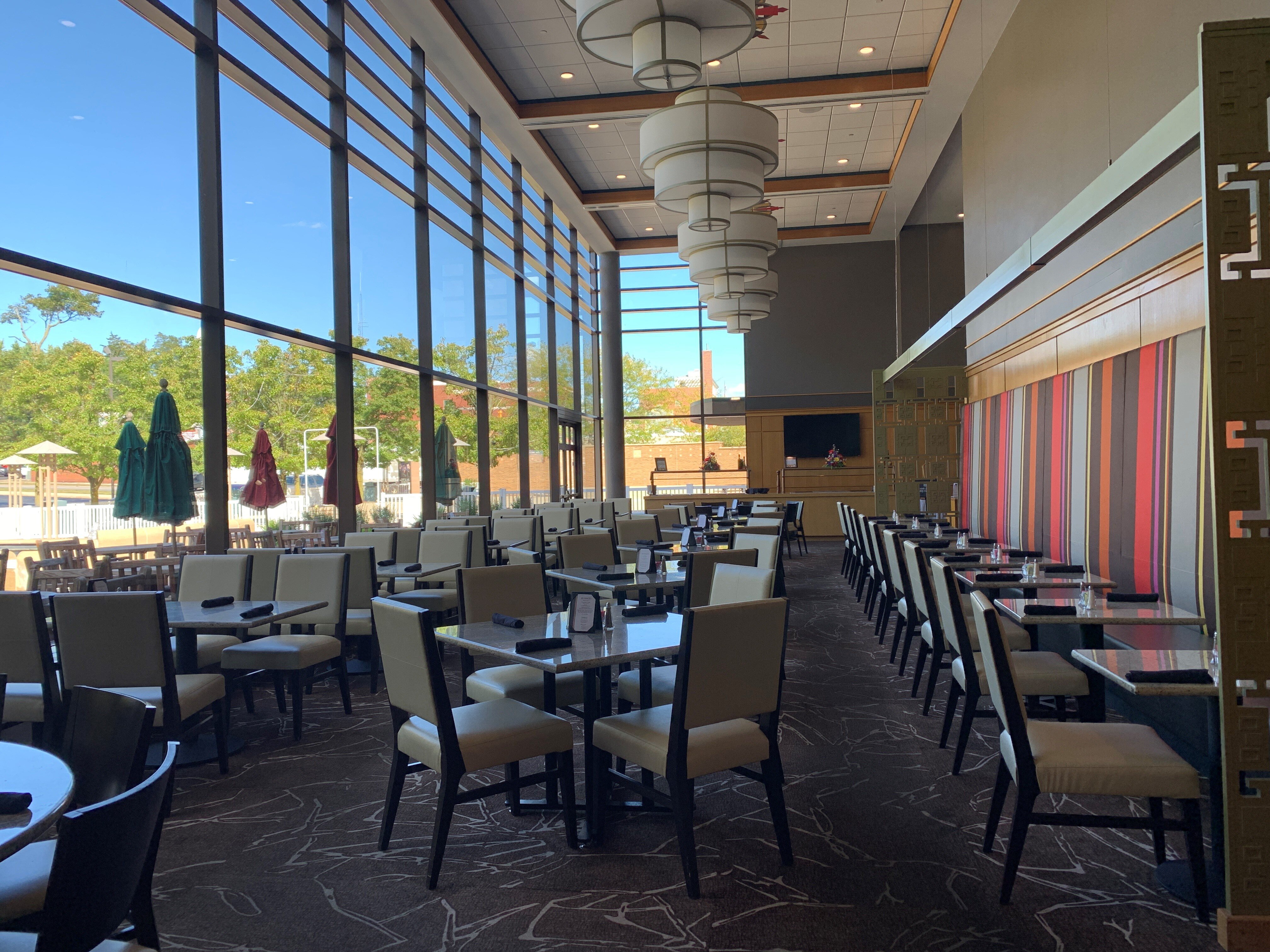 Eugenia's Restaurant at the Honeywell Center is named for Eugenia, second wife of Mark C. Honeywell.Although Mark C. Honeywell is best known locally as a donor and initiator of the Honeywell Center, Jones believes he should be best known for "his generosity to the community and concern for young people."
Although Honeywell had no biological children, he was very interested in children. If you visit the Honeywell Center today, you will find a statue of Mark interacting with a boy and a girl. He was a Boy Scout supporter and even built a cabin on his private property for the local Boy Scout troop in 1940.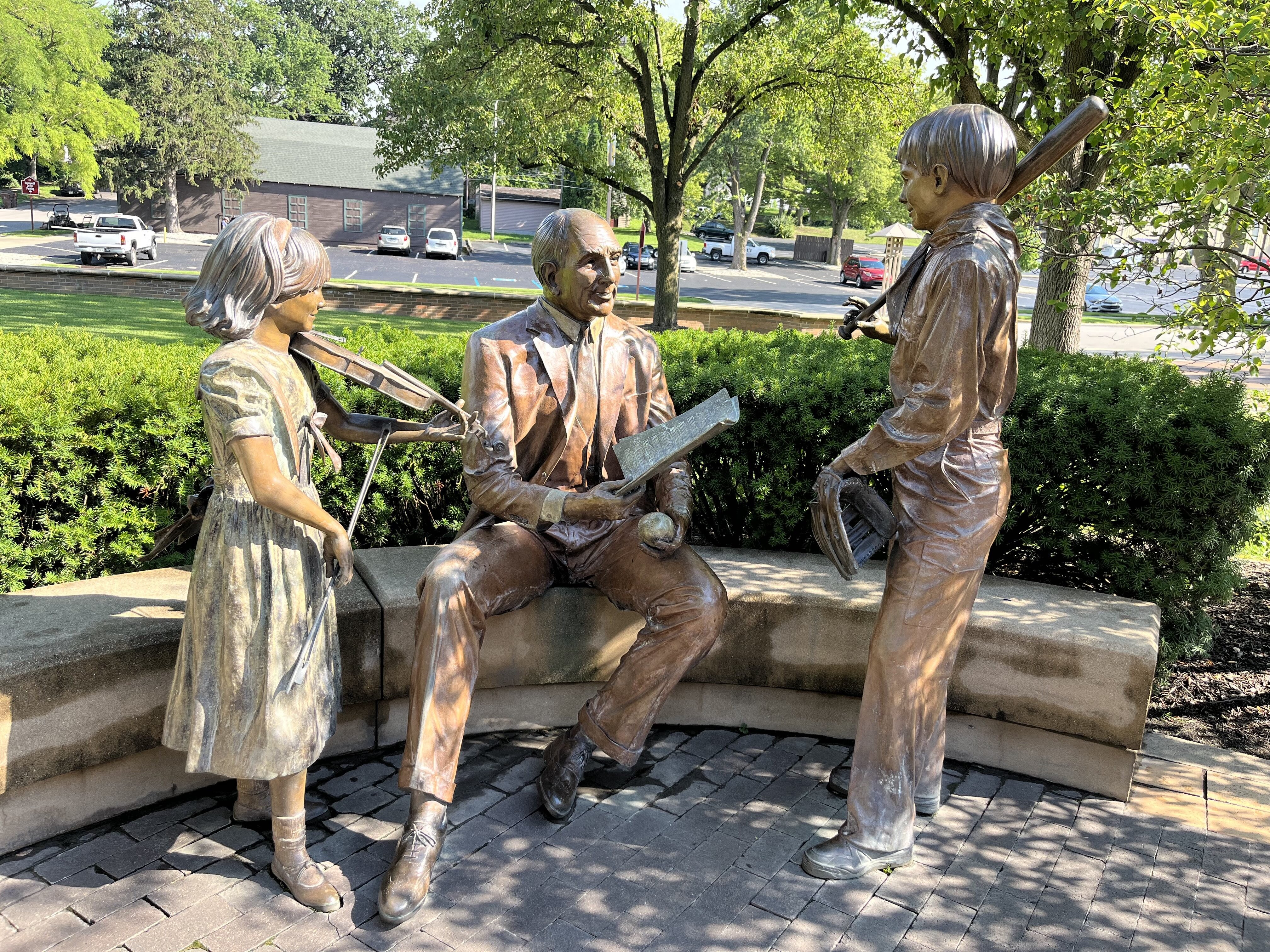 A statue of Mark C. Honeywell stands in front of the Honeywell Center.Honeywell was very involved with the Honeywell Center until his mid-1980's when he became too ill to actively participate in the facility's activities. He was a unique and interesting businessman admired for his love of community. He played the violin, loved gardening and had a fondness for chow chow dogs. But most of all, he wanted to see his hometown of Wabash, Indiana, as a place where people could live happy, healthy lives.
Wabash is the focus of a Partner City Series in Input Fort Wayne supported by Visit Wabash County and Honeywell Arts & Entertainment. This series will capture the story of talent, creativity, investment, innovation and emerging assets shaping the future of Wabash County, about an hour southwest of Fort Wayne.
To learn more about partnering with Honeywell Arts & Entertainment, contact Eric Seaman (​​[email protected]) or Beth Squires ([email protected]).