How to create an exercise plan that sticks | SBM
August 3, 2022

Linda Trinh, PhD, University of Toronto, and Allyson Tabaczynski, MSc, University of Toronto
The Physical Activity Guidelines for Americans (Second Edition) recommend that adults get 150 minutes of moderate-to-vigorous physical activity per week. Achieving this benchmark offers numerous health benefits, including a reduced risk of chronic disease.
While this may sound daunting, your weekly workout time doesn't have to happen all at once. You can create an exercise plan that makes the goal more manageable. You can even break your exercise within a given day (e.g. 10 minutes walk in the morning, 10 minutes walk in the evening for 20 minutes of total daily physical activity). You can also spread your training time throughout the week to aid recovery and prevent burnout.
We've all set fitness goals and watched them fizzle out. Training and nutrition planning can be a challenge. The trick is to create exercise plans that are realistic and manageable, whether your goals involve weight loss, muscle building, or overall health.
One behavior change technique you can use is called "action planning." Action plans are detailed plans that include who, what, when, where, and how to achieve your fitness goals. Think of it like a must-have checklist that makes it easier to track your progress and plan physical activities for your day.
How do I create an action plan?
Click here for a printable, fillable version.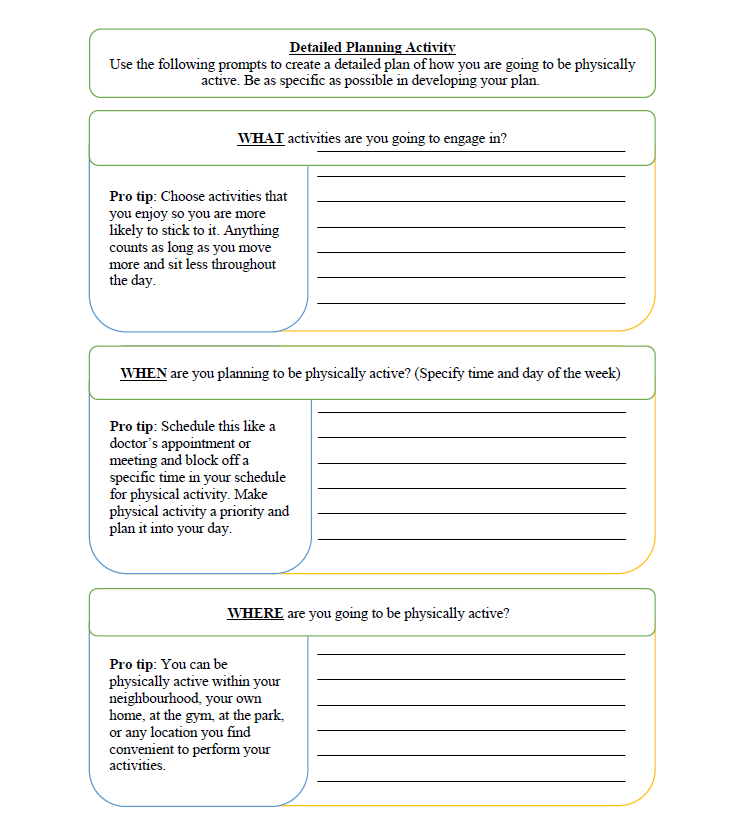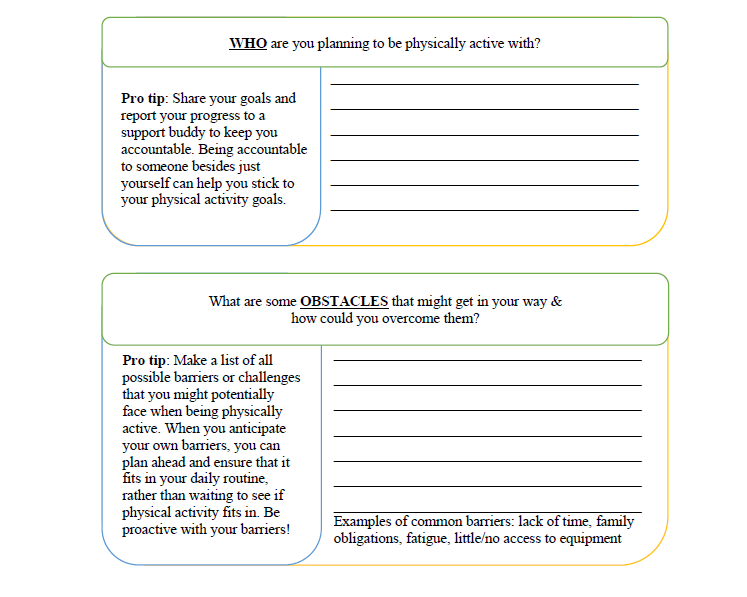 What if I don't stick to my training plan?
There are many obstacles that can put you off an exercise or diet plan. The key is to recognize these obstacles in time and have a plan to overcome them. If you anticipate an obstacle, think of various ways around it that will help you stick to your training plan.
Some of the most common situations where absenteeism can occur include travel, vacation, illness, stress, inclement weather, overtime, and competing family commitments. By using your training action plan to anticipate these events, you can minimize their impact on your new, active routines.
There are times when we take a short-term detour on the way to reaching our physical activity goals. Relapses and mistakes are a normal part of behavior change. Try not to let a mistake linger too long. Once old behaviors kick in, it can lead to a complete collapse in your progress.
Realistically, however, life can make sticking to an exercise plan difficult or impossible. Don't be too hard on yourself when you have an unexpected gap in your active lifestyle. Just pick up the plan as soon as possible.
Above all, try to stay positive that you're getting back on track and remember that behavior change isn't linear. You can resume your daily activity by starting again with shorter durations and then gradually building up longer periods of activity when you feel comfortable. Rethink your plans, adapt them to your current needs, and then put them into action.
« Back to healthy living