Babushah.com
August 5, 2022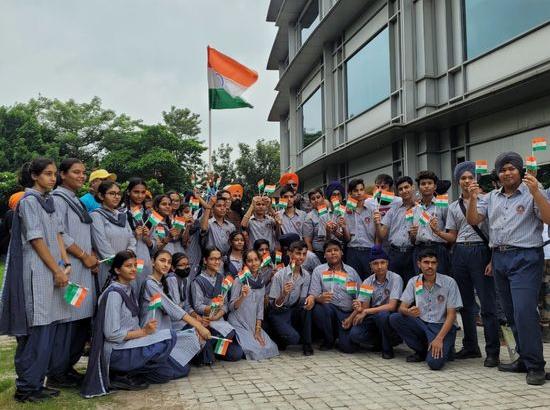 Photo credit: Babushahi Network
The NGO Guardians of Nature Federation organizes the Spirit of Freedom event to address relevant environmental issues
Renowned journalist and editor of Babushai.com Baljit Balli has been awarded the Eco Warrior Award
Event part of the celebration of 'Azadi Ka Amrit Mahotsav'
"Healthy and sustainable India is the order of the day," Jagjit Singh Majha, GNF Founder
Babushhi office
Chandigarh, August 5, 2022:
Guardians of Nature Federation, an NGO working to raise awareness and protect the environment, organized "Spirit of Freedom" to promote "Har Ghar Tiranga" as part of the "Azadi Ka Amrit Mahotsav" celebration here at the JW Marriott Hotel.
Jagjit Singh Majha, Founder and Chairman of the Guardians of Nature Federation who is also Co-Chairman, IGBC, Chandigarh, President CREDAI (Punjab) and Chief Executive of PCL Housing, honored Baljit Balli, Editor of the famous news web portal Babushai.com for his contribution to protecting the environment by planting trees. On this occasion he was honored as an "Eco Warrior". Balli thanked the GNF for the honor and said it is the duty of every Indian to do their part to protect the environment. He also shared his views on the importance of planting trees.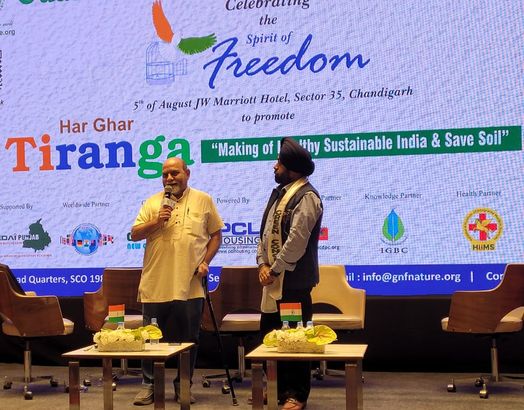 Highlights of the event included panel discussions on "Making of Healthy and Sustainable India and Save Soil" attended by experts from the Hospital and Institute of Integrated Medical Sciences (HIIMS), the Indian Green Building Council (IGBC) and the Isha Foundation. The "Green Peace Awards" and the "ECO Warrior Awards" were also presented on this occasion.
To celebrate "Spirit of Freedom" in a colorful and joyful way, "Bhangra" and "Algoza" performances were also held. School children from Sri Guru Gobind Singh Public School, sec 35, participated in a March for Healthy India and also a painting competition on the theme of Sustainable and Healthy India. A bike rally was also held which was celebrated at the PCL Housing project in New Chandigarh and culminated at the JW Marriott Hotel.
"As a nation we are completing 75 years of independence. It is a great milestone in the life of our nation. However, we must make the most of independence, we must preserve our environment and promote healthy living. The spirit of liberty must care for the beauty of nature, which is central to human life," said Jagjit Singh Majha, Founder and Chair of the Guardians of Nature Foundation, who is also Co-Chair of IGBC, Chandigarh, President of CREDAI (Punjab ) and Managing Director of PCL Housing.
A renowned Ayurveda and meditation guru – Acharya Manish, the founder of Shuddhi Ayurveda and HIIMS – said: "This is the time for Indians to incorporate Ayurveda into their lives. In Ayurveda, perfect health is defined as the balance between body, mind and spirit and social well-being. According to our philosophy, we work hard to provide holistic medical facilities to ordinary people and promote healthy lifestyle habits to prevent disease from occurring rather than cure it."
Col Shailesh Pathak (retired), Chairman of IGBC, Chandigarh said: "Health, sustainability and soil protection are of paramount importance to us. We are creating an infrastructure whose cornerstones are green buildings and sustainable architecture."
Mona Chopra from the Isha Foundation said: "The idea behind the event was to bring topical discussions on pressing issues such as soil conservation. We tried to mobilize public opinion on environmental protection in every possible way."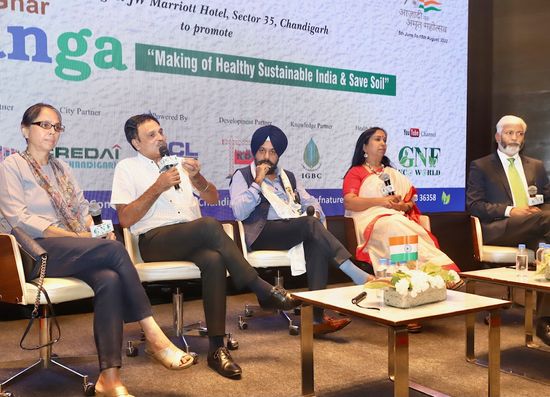 The Mayor of Chandigarh, Sarbjit Kaur, UT Chandigarh, Harsh Sharma, Chief Conservator of Forests, Punjab, and Dr. Abdul Qayum, Deputy Chief Conservator of Forests, UT Chandigarh, honored the event as guests of honour. The event partners were CREDAI, CREDAI (Punjab), PCL Housing, IGBC, HIIMS etc.
Also watch the video: