PITTSFIELD — One brushstroke at a time, Hope Aguilera transforms the brick wall of a downtown auto body shop. Her "I Wish…For a Greener Future" mural now covers an entire side of the building.
Sweat paints her own face as she works in nearly 90 degree heat.
Despite constant pauses, this new piece of public art is slowly coming together. The mural features Quincy Charles, a 5-year-old neighborhood boy, blowing on a dandelion in front of a mountain backdrop.
It's the first time Aguilera, 29, has painted an outdoor mural, but she has experience covering interior walls with her artistic vision, like at Adam's yoga studio, Anahate Schoolhouse.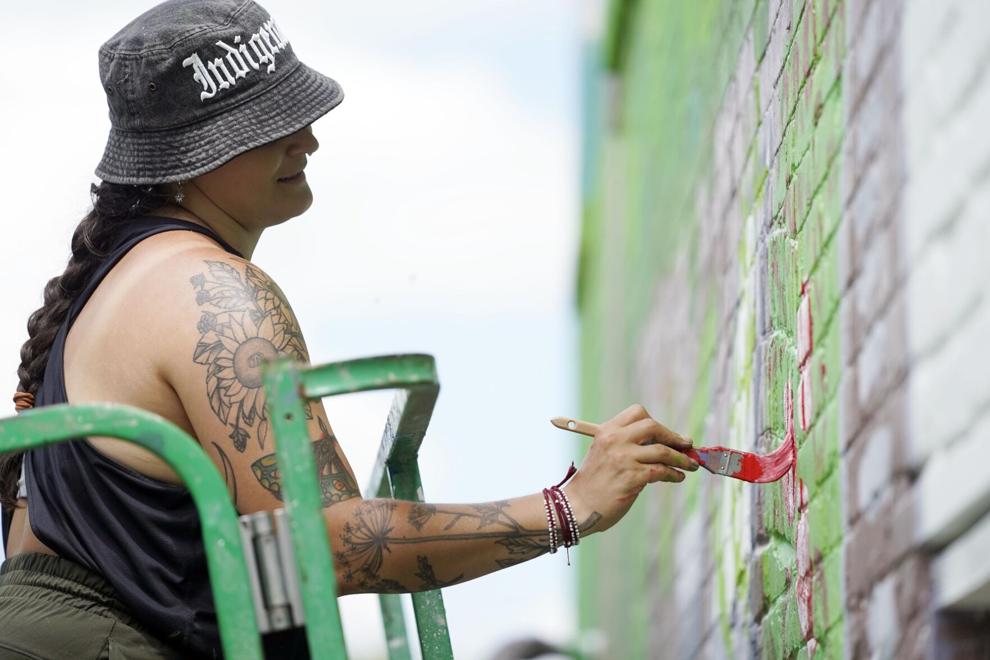 As part of Central Berkshire Habitat for Humanity's Neighborhood Revitalization, Aguilera was commissioned to paint a mural with a theme born of residents' concerns and future aspirations, a survey has found. The total budget for the initiative is between $8,000 and $10,000.
The mural adorns the west side of the B&P Auto Body Supply Store at the corner of Columbus and Robbins, a few blocks west of North Street.
"One of the messages that kept coming back was that people are concerned about climate change, green energy and making sure there is a focus on health and equity, especially in marginalized communities," said Carolyn Valli, CEO of Habitat.
Valli said they reached out to local artists, and Aguilera stood out for her understanding of creating a local piece that conveys a sense of hope for the future.
"She came up with the title, the idea of ​​bringing locals into the picture and what climate justice means to them. A thriving garden and landscape and a diverse community coming together to make this happen," said Valli.
Raised in Los Angeles in a multiracial family, Aguilera feels personally committed to working towards a more inclusive society. "When I was young, my Mexican grandma worked in a sweat shop in downtown Los Angeles, made pennies and toiled 12, 14 hours a day, every day," she said.
"[She was] exposed to many chemicals that eventually contributed to her developing lung cancer."
Aguilera, located in Pownal, Vt. lives experienced this fear of climate change during the four years she taught art at Pittsfield High School.
"I think a lot of adults think it's too difficult a topic or they worry that students will be disrespectful or they won't know how to talk about it, but they're already thinking about it," she said.
Aguilera said it was hard to see her students' constant concern. "It is heartbreaking to hear my students. How concerned they are and they're like, 'Oh, I already know I'm not going to have kids because of climate change,'" she said. "It's a very big reality for them that when they grow up things will be very different. They are very aware of that."
In the end, Aguilera gave up her job as a teacher to devote herself full time to the artist. She has an Etsy shop featuring tote bags, t-shirts, and bandanas with images inspired by witchcraft, herbal medicine, and yoga.
She likes to paint portraits. "Especially portraits and drawings of aborigines. This representation means a lot to me," said Aguilera, whose Mexican family is of Native American descent.
Representation is at the heart of the mural. To make it more relevant to people, she decided to paint local residents, especially people of color who were underrepresented in art. "It goes back to privilege and wealth and who is important to be in a portrait and has the money to get it done," she said.
In a garden depicted in the mural, the model for one of the harvesters actually works at Panchos, a Mexican restaurant on North Street. Another harvester lives across from the mural and has been in Pittsfield since the 1980s. The scooter driver works at the barber shop down the street.
"It was important to me to involve the local community and not just paint random people. That's the magic of art. It reflects the times and the people," Aguilera said.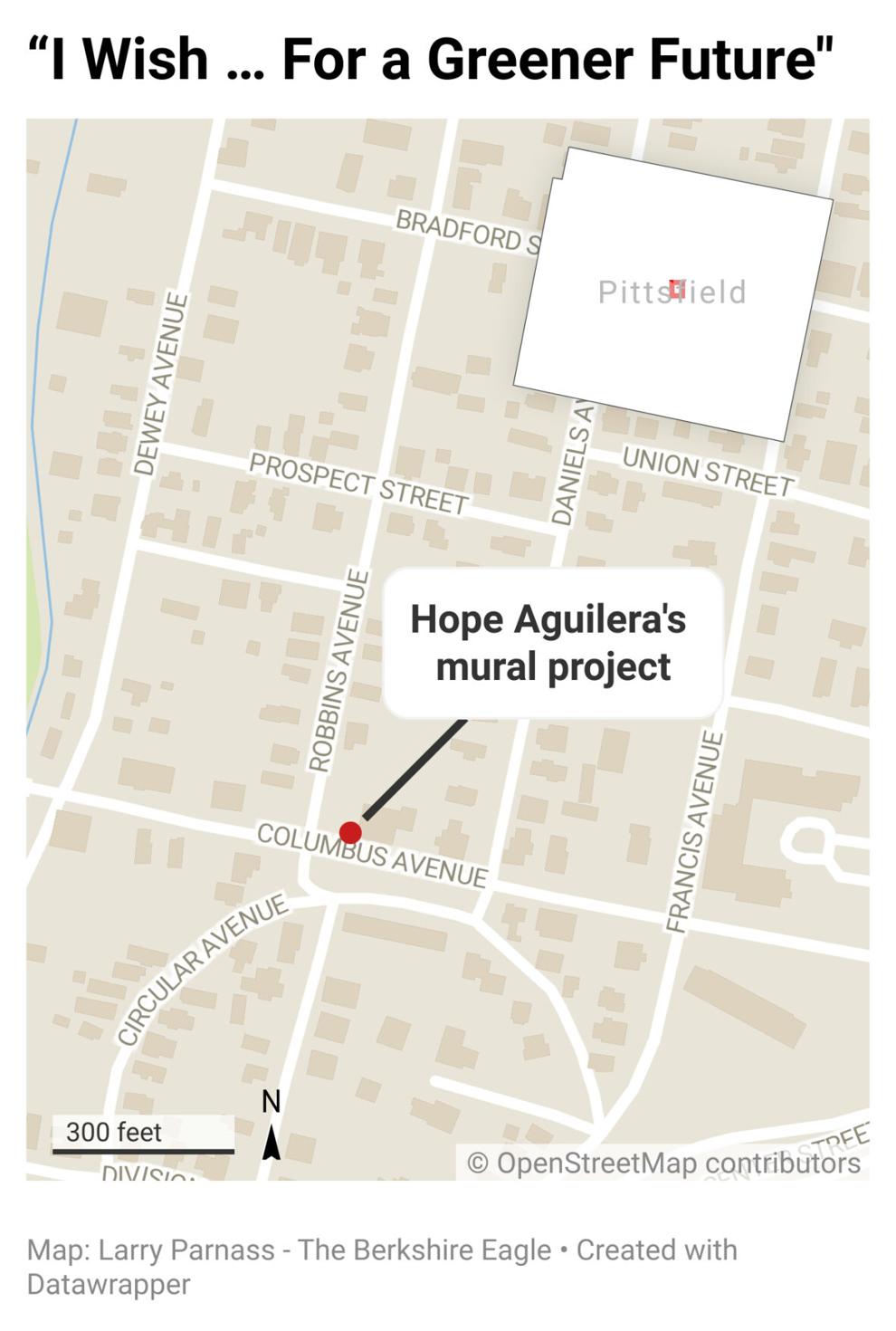 The artist is warmly welcomed by local residents and passers-by. "People are always honking at me, giving me a thumbs up, or telling me it's a blessing and they appreciate it," she said.
Charles, the painted boy, also gave her his approval. "He said he loved it and looked like him and liked making wishes on dandelions," Aguilera said.
Aguilera said there is a Native American belief that people should live with the next seven generations in mind.
Today she hopes that people will be able to think directly of the generation after them. "[Think about] what we're going to give them and what kind of world they want," she said. "They want clean air to breathe. Food, non-toxic food they need to garden with. Fresh food and a healthy landscape."